"John is getting the care he needs," an aide said in a statement.
Pennsylvania Sen. John Fetterman on Wednesday checked himself into a Washington hospital "to receive treatment for clinical depression," his chief of staff said on Thursday.
"While John has experienced depression off and on throughout his life, it only became severe in recent weeks," Adam Jentleson said in a statement.
Jentleson said that Fetterman was evaluated on Monday by Congress' attending physician, Dr. Brian P. Monahan, who "recommended inpatient care" at Walter Reed hospital. "John agreed, and he is receiving treatment on a voluntary basis."
"After examining John, the doctors at Walter Reed told us that John is getting the care he needs, and will soon be back to himself," Jentleson said.
Fetterman, a Democrat, won his seat in the November midterms. He suffered a stroke during the campaign, which his doctors said was the result of irregular heart rhythm that led to a clot.
He recovered before the election and returned to the trail, albeit with limited appearances. After the stroke, he worked with a speech therapist and also has had auditory processing issues that required the use of closed-captioning devices.
"He has no work restrictions and can work full duty in public office," his doctor said, via his campaign, in October.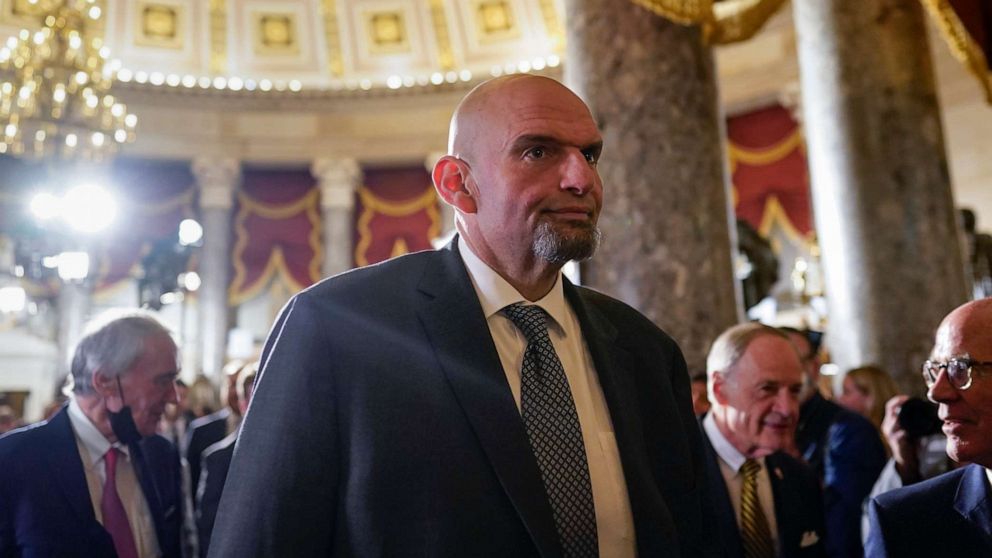 Last week, Fetterman was hospitalized for several days of observation after feeling lightheaded, though his aides said testing had ruled out seizures or another stroke.
A source close to Fetterman, who spoke on the condition of anonymity, told ABC News that his current hospitalization has no direct connection to the stroke he survived. However, this source said, it could be related to the separate incident last week.
He hasn't been eating regularly and "he's been doing his job, but he just seems off," the source said.
"This is an ailment — it's a different ailment," the source said. After the stroke, Fetterman "was still himself. The last couple of weeks, he hasn't been himself."
Fetterman's family has no timeline for inpatient or outpatient care but believe it's "weeks, not months — and not days" that he will likely be away from the Senate.
"Depression is very treatable. A lot of people don't seek treatment because of the stigma. … What John Fetterman is doing right now is exactly what people should do when experiencing mental health challenges," the source said.
Fetterman's wife, Gisele Barreto Fetterman, wrote on Twitter that "this is a difficult time for our family, so please respect our privacy. For us, the kids come first." She and the senator share three children.
"Take care of yourselves. Hold your loved ones close, you are not alone," she wrote, while praising her husband for "asking for help and getting the care he needs."