Among the substances were ethylene glycol monobutyl ether and isobutylene.
There were more toxic chemicals aboard the train that derailed in Ohio than originally reported, new data shows.
State health officials were initially concerned about the presence of vinyl chloride, a highly volatile colorless gas produced for commercial uses, which spilled after about 50 cars on a Norfolk Southern Railroad train derailed in East Palestine, Ohio, on Feb. 3 while traveling from Illinois to Pennsylvania. Other toxins, like phosgene and hydrogen chloride, were emitted in large plumes of smoke during a controlled release and burn, prompting officials to issue mandatory evacuation orders in a one-mile radius of the crash site.
A list of the cars that were involved in the derailment and the products they were carrying released by Norfolk Southern reveal several more toxic chemicals that were released into the air and soil following the crash.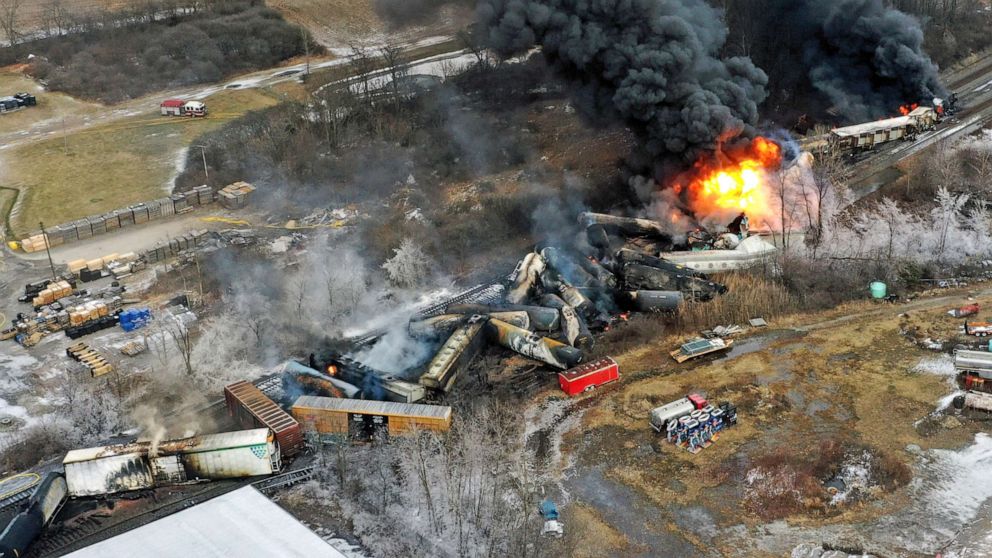 Among the substances were ethylene glycol monobutyl ether, ethylhexyl acrylate and isobutylene were also in the rail cars that were derailed, the list shows.
Contact with ethylhexyl acrylate, a carcinogen, can cause burning and irritation of the skin and eyes, and inhalation can irritate the nose and throat, causing shortness of breath and coughing, according to the Centers for Disease Control and Prevention.
MORE: Why the toxins from the Ohio train derailment could have posed deadly threats for residents nearby
Inhalation of isobutylene can cause dizziness and drowsiness as well, while exposure to ethylene glycol monobutyl ether can caused irritation in the eyes, skin, nose and throat, as well as hematuria, or blood in the urine, nervous system depression, headache and vomiting, according to the CDC.
The toxins that burned in the wreckage had the potential to be deadly if officials did not order evacuations in the region, experts told ABC News last week. However, once the controlled burn was complete, the only risk of coming in contact with the toxins was if they were embedded in the soil, which then had to be dug out, Kevin Crist, professor of chemical and biomolecular engineering and director of Ohio University's Air Quality Center, told ABC News last week.
The evacuation orders for the residents in East Palestine were lifted on Wednesday after air and water samples that were collected in the region were deemed safe.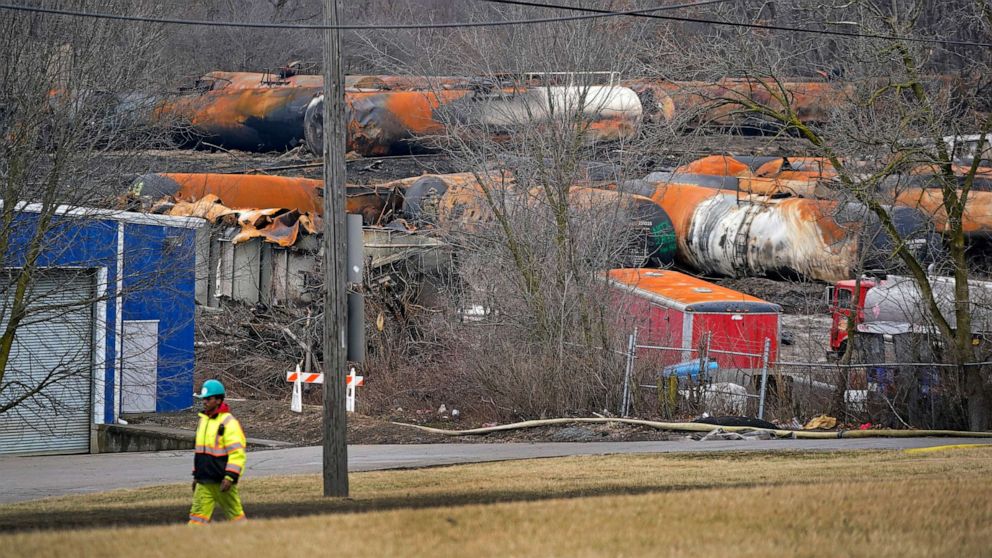 The U.S. Environmental Protection Agency said Monday evening that has not yet detected any concerning levels of toxins in the air quality that can be attributed to the crash since the controlled burn was complete. There are six EPA staffers and 16 contractors on the ground to assist with air monitoring actions, according to the agency.
"Residents may still smell odors from the site," the EPA said, suggesting that those experiencing any symptoms call their medical provider.