The bombers did not enter U.S. or Canadian airspace.
The U.S. intercepted Russian aircraft flying off Alaska in international airspace as they approached an identification zone for two straight days this week, according to officials.
Planes are required to identify themselves when they approach the Alaska Air Defense Identification Zone, or ADIZ. If they don't, U.S. aircraft are launched to check on them.
The Alaskan Region of North American Aerospace Defense Command, or NORAD, announced on Thursday an incident that took place on Feb. 14 in which U.S. Air Force F-35s intercepted four Russian aircraft, including two Tu-95 bombers. The U.S. announced on Tuesday it had intercepted two Russian Tupolev Tu-95MS strategic bombers on "a seven-hour flight over neutral waters of the Chukchi Sea and the Sea of Okhotsk" on Feb. 13.
MORE: Russian aircraft buzz US Navy patrol planes, get within 5 feet, Pentagon says
Neither time did the Russian aircraft enter the U.S. or Canadian airspace, according to officials.
"This Russian activity near the North American ADIZ occurs regularly and is not seen as a threat, nor is the activity seen as provocative," NORAD said in a statement Thursday.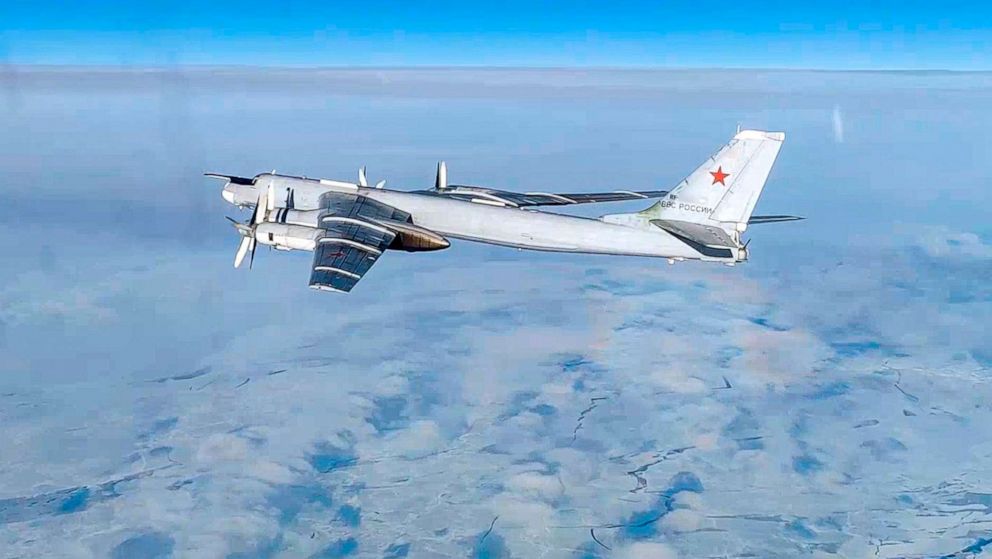 NORAD said it "anticipated this Russian activity" and was ready to intercept the aircraft. The U.S. intercepts Russian jets about six or seven times a year, according to officials.
Satellites alert the U.S. to the arrival of long-range bombers at bases in Russia's Far East for exercises after having flown from bases far to the west. Since they're not based in Russia's Far East, when they arrive there, the U.S. knows they're likely to carry out missions that will take them close to Alaska.
MORE: 4 flying objects have been shot down over North America: Timeline of key moments
The U.S. also said the intercepted aircraft have no relation to the "airborne objects" that have garnered major media attention over the past two weeks. One of those objects, believed to be a Chinese spy balloon, crossed over Alaska and the continental United States before eventually being shot down off the East Coast.
Another object was shot down by the U.S. over Alaska last Friday. There's no indication it was related to Russia or China.